We offer all kinds of jewelry appraisals, including jewelry, diamonds, gemstones and watches. GIA certified jewelry appraiser in Carlsbad, CA and surrounding areas.
If you haven't had your jewelry appraised in the past 5 years, we recommend you have it documented in detail today. Most jewelry appraisals provide replacement value for the purpose of obtaining insurance coverage in the case of loss, damage or theft. However, other situations such as estate tax evaluation, dissolution of marriage (divorce), donations, etc. require a fair market value.
Insurance Replacement Appraisal
Let us assist you in your time of need. We specialize in helping find replacement jewelry when you experience a loss. Our access to a diverse and deep selection of manufacturers enable us to find the exact piece you are looking to replace.
Identification of jewelry of equal kind, quality and value as the original
Large inventory selections in our showroom
We bill all insurance companies
 

Jewelry Insurance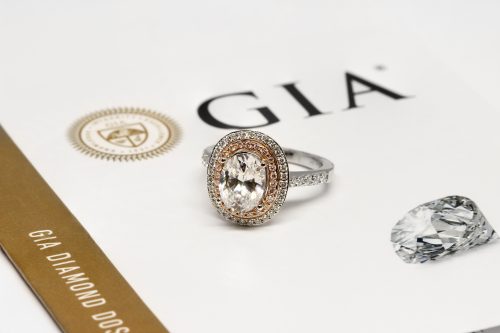 Jewelers  Mutual  Insurance is the only insurance company that specializes in  protecting  jewelers and the personal jewelry of the United States.  Founded in 1913,  Jewelers Mutual licensed in all 50 states, insures  personal jewelry of  more than 100,000 people. As a professional  jeweler, we are committed to  providing a full range of services – from  helping you make the right  selection to backing up your purchase if  there is a problem. With that  in mind, we would like to tell you about a  service called Personal  Jewelry Insurance from Jewelers Mutual  Insurance Company, the nation's  jewelry insurance specialists.
Fine jewelry is beautifully crafted to last for  generations, but  accidents do happen. Loss or damage to these items can  be emotionally  and financially devastating. Your Personal Jewelry  insurance policy  will repair or replace your insured jewelry if lost,  stolen or damaged.  It even covers "mysterious disappearance." What's  more, if you have a  covered loss, Jewelers Mutual will ask that you  return us to have your  jewelry repaired or replaced instead of mailing  it off to someone you  don't know. Furthermore, jewelry losses you  experience with Jewelers  Mutual will not affect your existing homeowners  policy. Jewelry losses  you turn in on your homeowners policy will count  towards your continued  eligibility and may even impact your homeowners  premium.
For more information, stop by our store and pick up a  brochure on  the program, call Jewelers Mutual direct at 1-888-884-2424  or visit  them at Jewelers Mutual Insurance. We would also be happy to  provide  the insurance appraisals needed to insure your jewelry.