Jewelry Repair
If you are looking for a Carlsbad jeweler you can trust for expert repair and custom manufacturing, come to Gems of La Costa Jewelers. Our on-site team of jewelers has more than 120 years of combined experience and offers a complete range of jewelry services. Our jewelers can do almost any type of jewelry repair or remake your jewelry into a completely new, unique design.
Need a ring restored? Prongs wearing thin?
Every day jewelry gets a lot of wear, especially engagement rings. We recommend having your jewelry checked every few months for loose stones and to make sure your prongs are not wearing thin to prevent losing your stones. For prong set stones, we can build up the prongs to extend the life of your setting or rebuild the channels to last you for another few years.
Services include:
Gold, Silver & Platinum Repair
Complimentary cleaning
Ring sizing & ring repair
Prong repair and re-tip /rebuild
Ring shank repair & replace
Fingermate – expanding ring shanks
Full spectrum metal working – custom jewelry repair
Expert evaluation and jewelry repair
Polishing of worn and damaged valuable gems
Expert diamond setting
Antique refurbishing
Laser jewelry repair
Reputation Matters!
Manufacturing/ Custom Jewelry Design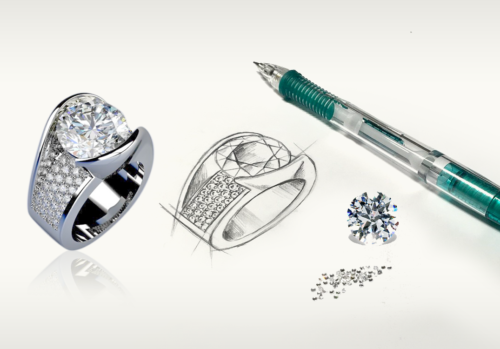 Do you have your own idea for jewelry? We can do start to finish design and production of jewelry in your individual style.
We'll help you put your ideas on paper, and our craftsmen can create the piece of your dreams in the metal of your choice.
Start to finish design and production of jewelry in your individual style
One-of-a-kind creations you will cherish for years to come
We can create anything – no piece is too difficult
We can use gemstones that you already have
We can turn that old, unworn piece of jewelry into something fresh and exciting
Insurance Replacement Assistance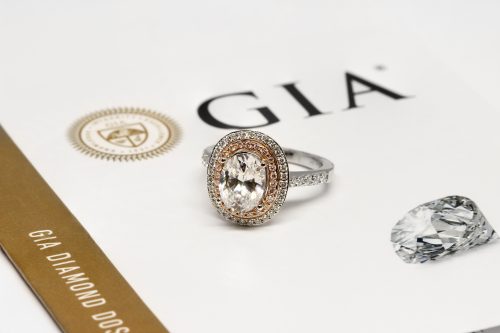 Let us assist you in your time of need. We specialize in helping find replacement jewelry when you experience a loss. Our access to a diverse and deep selection of manufacturers enable us to find the exact piece you are looking to replace.
Identification of jewelry of equal kind, quality and value as the original
Large inventory selections in our showroom
We bill all insurance companies
GIA Lab Reports
Would you like an independent opinion on your diamond or gemstone? Let us help you choose the correct lab for your report. We'll make sure it gets there safely, and explain the terminology when it comes back.

Laser Inscribing
We can inscribe a name or other identification mark on any diamond, and most gemstones – even pearls! The laser inscription is only visible under magnification but is a great way to identify your own gemstones.
Engraving
Let our engravers add that personal touch. We can engrave in script or block, monograms, poems, even family crests. If you'd like your wedding rings personalized we can engrave on the inside or out. Both machine and hand engraving are available.
Expert hand engraving
Precise machine engraving
Multiple symbols, languages, fonts included
Pearl/Bead Stringing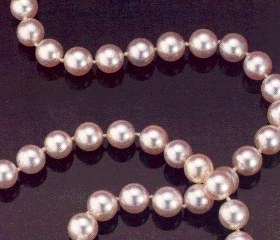 Did you know pearls should be restrung every few years? We can make your necklace or bracelet look like new – graduated or multi strands are no problem for our experts. Don't neglect a pearl heirloom when it is so easy to get it restrung.
We can also re-wrap your bead jewelry and gemstone beads for you.
Watch Repair & Restoration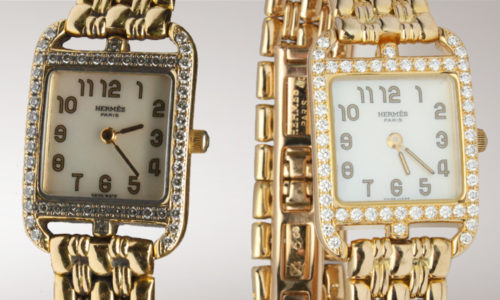 We are able to fix every brand, regardless of age, and can fix most pocket watches too. If you need a new battery, band, or band adjustment, we can perform most of those duties while you wait.
Competitive pricing for preferred selections of all major brands
Watch repairs, battery and band replacements (leather, metal and rubber)
Quartz tune-ups
Mechanical watch repair and servicing
Sizing Watch Bracelets
Full Service for Mechanical and Quartz Watches (see details below)
Mechanical Watch Full Service
Our full service for mechanical watches consists of the dis-assembly and overhaul of the movement with an examination of all parts. We replace damaged or worn parts and re-seal water-resistant cases. Each of its parts are placed in special chemical solutions that dissolve dirt, dust, and emulsify any dried out oils. When the watch is reassembled, special oils are applied to lubricate all essential parts. We recommend that a general overhaul be performed every three years and that all water-resistant watches be tested once a year for case tightness. In addition, bracelet watch bands are polished and thoroughly cleaned.
Quartz Watch Full Service
Our quartz watch full service consists of the watch dis-assembly, the case and bracelet being polished and thoroughly cleaned in the ultrasonic and the battery being replaced. If needed, the gaskets will be replaced then the watch is resealed to factory specifications. We recommend that all water-resistant watches have their water resistance checked every time the battery is changed.