Charity Charges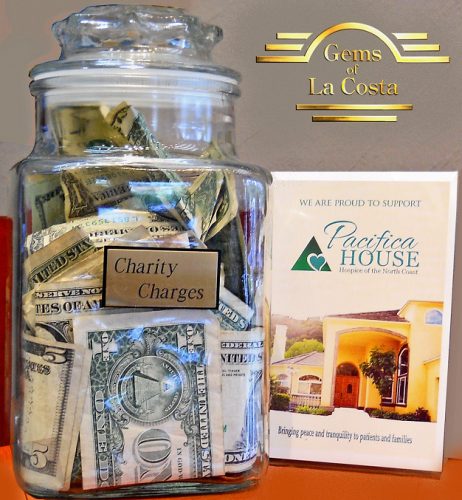 Many years ago, a curious practice began at Gems of La Costa.
We started working for tips!
While we're traditional mom & pop jewelers in many ways, we decided to put a new spin on things by doing small repairs in exchange for voluntary donations (tips) for local charities. We call the tips "Charity Charges" and it's our own unique way of giving back to the community.
Jewelers often provide small services such as adjusting a loose clasp, replacing a pin on a watch band, or simply checking and cleaning jewelry. Historically, jewelers have done the repairs as goodwill gestures.
Over time, we realized that many customers felt uncomfortable with the free repair. Some would leave cash on the counter in an attempt to pay for the service. The "tips" were collected and it was decided to give them to local non-profit groups. An engraved plate was placed on a glass jar and the "Charity Charges" tip jar was born. Since long retail hours limited our ability to volunteer, it became a way for us to give back. It was something our customers felt good about as well.
Today,  after 32 years and many, many thousands of dollars later, Gems of La Costa continues the practice of working for tips. When the staff can provide certain minor repairs that require an inexpensive part or a small amount of time, we allow the customer to determine the value of the Charity Charge. The voluntary donations are donated to local nonprofit organizations to help fund the work they do.
So, next time you need a small repair or your wedding ring cleaned, think about Gems of La Costa and our "Charity Charges" jar.