Considering the business benefits of your own line of jewelry? Our experience in custom jewelry manufacturing can make it happen, without the usual headaches. Or perhaps more importantly, seeking the satisfaction of creating unique and precious keepsakes honoring a cherished memory or a special loved one for your clients? One that might even be passed down generation to generation?
We're honored to work with designers to create something special. Starting with drawings or prototypes, adding our expertise in wholesale jewelry manufacturing (including materials wholesaling) brings it all to fruition.
Only have a concepts? Our own in-house designers can take it from there.
We're known for our seamless combination of cutting-edge technology and designs together with old-fashioned craftsmanship and quality. And an in-depth understanding in design essentials. All totaled, our master jewelers have 130 years of manufacturing experience and are ready to take you through the entire process. We can start from a prototype or detailed drawings. Or a simple sketch, or just a basic concept. We'll use our in-house CAD (computer aided design) for 3D rendering and production documentation. After your approval of a hand-crafted prototype based on the CAD data, we can source precious metals and gemstones. We'll skillfully use competitive bidding to keep costs down. Then progress through casting, finishing, hand-setting, and polishing.
If you're looking to create your own private label collection of wedding and anniversary bands, engagement rings, bracelets, earrings, or necklaces we know how to make it happen.
Our goal is to make it easy to you, and delight for your customers. So request a consult and we'll go over the process in full detail, explaining all the terminology and identifying any issues.
Experience Matters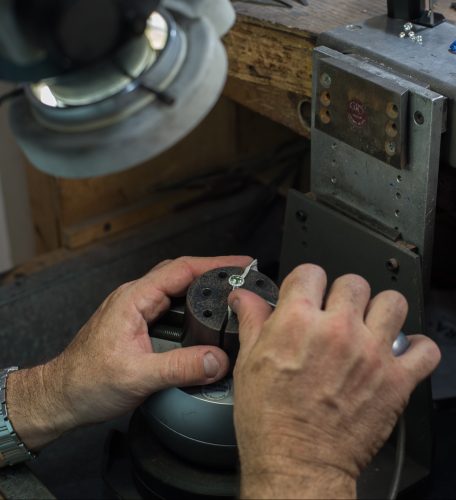 We've done business at the same location for over 20 years, providing handcrafted jewelry together with design and manufacturing services as well as wholesaling. We also sell, repair, and restore fine jewelry for our individual customers. Including pieces for celebrity owners and the Hollywood elite.
Our custom manufacturing experience includes modern designer brands in new styles, replica runs of rustic and ornate antique and period pieces, and duplicates of original pieces. Our expertise includes being a highly competitive buyer of diamonds, gemstones, and precious metals (silver, platinum, and palladium as well as yellow, white, green, and rose gold in 10, 14, 18, 20, and 22 karats). Or you can provide your own gems and metals.
We work closely with our clients throughout the process and establish a balance of cost-effective materials, the number of units, scheduling, and the target price point for the best combination of economy and value. We can even help you market and distribute your collections.
Our Award Winning Master Jeweler
Our master jeweler, Chad Elliott, has combined experience in design, hand fabrication, bidding, and manufacturing. In addition to being featured world-wide in fashion and jewelry trade publications he as received Spectrum Design Honor from the prestigious Platinum Guild International as well as a Spectrum Design Award from the American Gem Trade Association.
Call us to talk to about your new and exciting jewelry line!