Testimonials
Over the last 25 years, Gems of La Costa has earned a reputation for quality, integrity and value. We have a professional staff dedicated to your satisfaction with prices and policies established to earn your repeat and referral business. But, we don't think you should take our word for it…
Leave A Review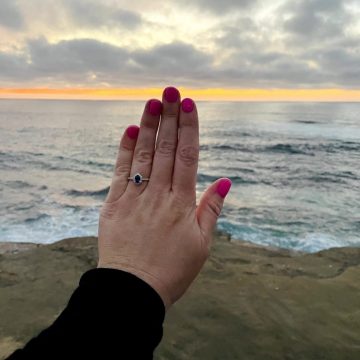 Alissa T. on Yelp
We went in here to get my ring size, and I fell in love with this ring and the shop. This shop is quite the hidden gem. Not only do they have a great selection, the sales associ and jewelers are incredibly helpful and kind. This is a one-stop shop! They sell, fix, and custom make jewelry. We are getting a wedding band custom made to match my ring perfectly. Additionally, the prices are super reasonable for the quality as well.
Diane helped us originally, Steve sold the ring to my fiancé, and Peter is the jeweler and manager who is custom making my wedding bands. They were all very friendly and helpful. We felt taken care of!
Honestly, I'm so impressed with their professionalism and also their inventory. I will be going to Gems of La Costa for all my future jewelry needs!
Hands down the best jewelers in San Diego County! I went in with a broken clasp to a necklace that most likely needed to be replaced and was assisted by Rhonda. She was so helpful and welcoming and went over many options with me as how to proceed while also telling me details about my necklace that I hadn't know about, as it was passed down to me. Rhonda was beyond sweet and went out of her way to assist me and I was even able to get my clasp fixed the same day free of charge! Their in-house solder, Zoe, did an excellent job and you can't even tell there was ever any work done! I really appreciate the kindness and welcoming environment that this store offers and how they weren't pushing to try and sell me a new clasp or chain and worked with me in order to keep my original clasp.
They also have such a beautiful collection of stones and jewelry in store that I was checking out and I look forward to returning and purchasing one of their pieces in the future.
Overall a wonderful experience and I recommend this store to anyone looking to purchase or needing jewelry repair!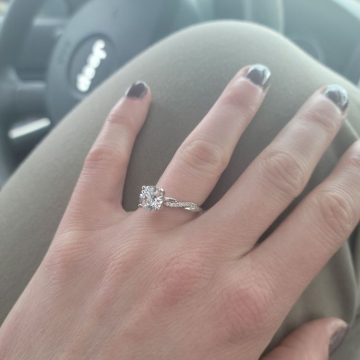 Samantha N.
Highly recommend, my fiance found this place when researching places for engagements rings. The ring he picked out with the help of Rhonda was absolutely stunning! After he proposed we went for resizing and look at rings for him. Rhonda greater us at the door with a big smile and a hug! She was so excited to be there through the whole ring experience. She was really organized and kind. Later I went back to purchase my finances ring and Rhonda helped me with all her notes she took based off of what he liked. Then we came up with a custom ring that was a combination of the rings he liked. Rhonda and the whole team made this experience very easy and a wonderful memory. I learned so much about jewelry I never knew before. Thank you for all of your help!!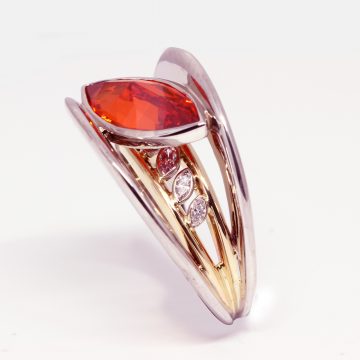 Susan L on Yelp
I had a custom ring made. I sent in the file with my design and Gems took it from there. They sourced the stones, cast the parts, finished the piece, set the stones. Peter Hinks, their master jeweler, did his magic and presented me with the most stunning finished masterpiece!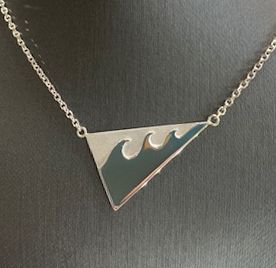 Mike & Dorinda on Yelp
Thank you Rhonda and Janja for designing the beautiful custom pendant with our yacht club flag design. It turned out beautifully and exactly what we had envisioned!  Would highly recommend Gems of La Costa!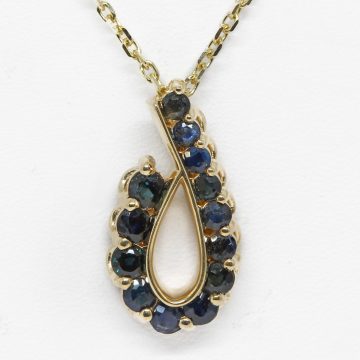 Molly L. on Yelp
My sister took stones from our deceased mother's jewelry, pieces that none of us were using, and with help from Gems of La Costa, she designed matching necklaces for the 3 sisters.  We think of each other, and our strong family bond, when we wear the necklaces.  They are truly gorgeous and we love wearing them.  We live in different parts of the country, but the necklaces make us feel closer to each other.  I am so grateful to my sister and to La Costa for this new family heirloom.  I get choked up when I think about it. The necklaces are lovely (many compliments) and they represent our deep love for each other.  Thank you, Gems of La Costa.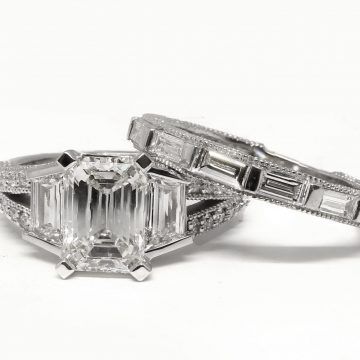 Stephanie C.
The service and attention to detail is amazing! I worked with Samantha to re-design my wedding ring for my 25th wedding anniversary and I couldn't be happier with the result. They are skilled and wonderful to work with.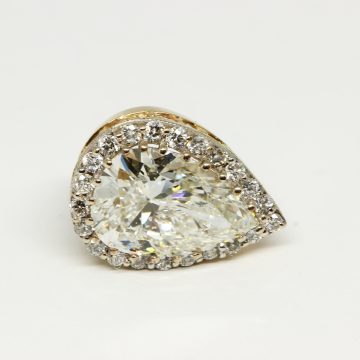 Ciao A. on Yelp
Gems of La Costa exceeded my expectations on a pendant I had them create from an engagement ring.  From concept to delivery, they were thorough with communication, design concepts, to every detail of final product. I'll continue to bring my business to them!
If I could give Gems of La Costa a higher rating, I would. My fiancé and I had the best experience working with Steve and the whole team when creating my dream engagement ring.
We originally went in there for my fiancé but ended up designing the most beautiful ring I have ever seen. Everything from picking the center stone, to designing the band size and design, I got to create the ring I have always wanted.
So here is a run down of my experience:
When first going in, they were not pushy like 99.9% of Jewelry store. They welcomed you, asked if you had any questions, and let you roam without feeling any type of pressure to buy. Most jewelry stores I went too, I felt like I was being watched like a hawk and not able to really enjoy looking at what they had to offer. Gems of La Costa made me feel welcomed and gave me to freedom to look around without feel pressure to buy.
We then asked Steve (literally the MVP/best jeweler ever) for help with my fiancé and his ring size. He went above and beyond, making sure we tried EVERY option he had so we knew what size and width he would like.
Me being the person I am, I asked to try on a few rings for myself. I asked if he had different sizes/ shape diamonds for me to try on, just to see what I liked best on my hand. Steve came through once again and had every type of diamond shape and size for me to see. He spent so much time with us, answering any question I had. I tried on so many different ones and he was so patient with me. I truly felt like he cared and wanted to make sure I knew what I liked.
Again, not know how this whole thing works, I found out that jewelry store work with specific companies who sell diamonds separate from the ring and you order the diamond through that company. So Steve went on the website and gave us different options in different price ranges and told us which ever ones we were interested in, let him know and he will order them for me to try on. We ordered a couple and when they came in we went in to try them on and I found the PERFECT one.
He then explained to us how we could either customize my ring there or order and band and head that they would weld together. We chose to customize it and it was the best decision we ever made. Not only was it exciting because the idea of creating my own ring that no one will have is amazing. But the process was something I had never heard of before. They have specific technology at their store where they create a 3D rendering of what your ring will look like and print it using a 3D printer, then you can see what it's going to look like before they create the actual ring.
Ewa, the one who you work with during this process, was the best! I wrote her so many emails, sent her so many pictures, and she was so kind and patient, making sure I got exactly what I wanted. She is a master of her craft, and I wouldn't have wanted anyone else to create my ring. She is a GEM!
When I went in there to see the 3D rendering, I was blown away! It was everything I had wanted and more!!
From there, it was in Steve and my fiancé's hands! They created my dream ring and when I finally saw the final product, it was better than I ever expected. They literally took the vision I had in my head and made it come to life.
While I didn't work with them directly, Chad and the rest of the team were incredible as well. Not only is he one of the best in his field (I'm not kidding, he's won so many awards and been honored for his work) he had the years of experience that make you feel confident that he is going to give you what you want. Everyone in that store is so invested in giving you your dream piece of jewelry and they will go above and beyond to do so.
I could not recommend Gems of La Costa more. There is no other jeweler I will put my trust into, and I won't be going or recommending any other jeweler.
Thank you so much Steve, Ewa, Chad, and the whole team for being the absolute best, and making this experience one I will never forget!!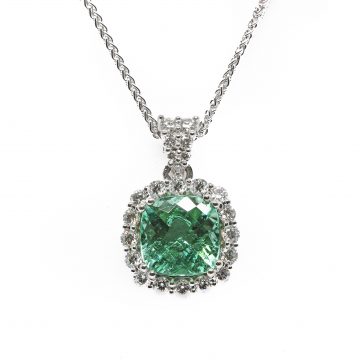 M Giannini on Google
I had Gems of La Costa custom design a setting for my Tourmaline. They created a perfect piece of jewelry that reflected my wish to showcase the stone. The cost was truly competitive. The diamonds they used were beautiful. They had a vast inventory of gems to augment the Tourmaline. The staff was extremely helpful without being pushy. They sought my approval on every step of the project. I will definitely go back to them to design and set other pieces. I was also impressed with their selection of finished jewelry.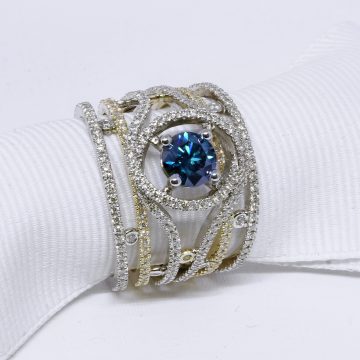 Susan Lang on Google
I purchased a stunning blue diamond from Gems of La Costa. Then they were able to help me bring my vision to reality in the creation of a jaw-dropping ring to showcase the stone. Ewa was amazing taking me through each design details and rendering the ring in CAD. And Peter's bench work was absolute perfection - along with his design input. Chad and Steve were nice enough to allow me to drag them into the process, as well. I've hardly taken my new ring off since its dramatic unveiling. And I've already purchased another diamond from them and finalized details for another customer piece - a pendant this time. They have a life-long fan and customer!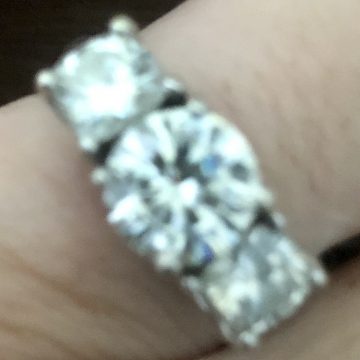 Estee Gubbay
A fantastic resource for all types of beautiful, high quality jewelry! These are real artists who work in the back doing custom designs. They also manufacture anything you can dream up! I am starting my own line of jewelry to sell and Chad has been so helpful with his guidance. They even buy and sell precious metals so I'm going to bring in some old jewelry to make some quick cash.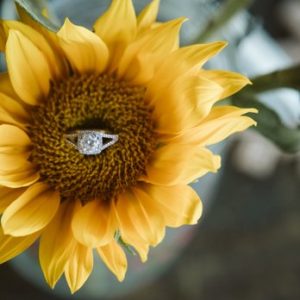 Bethany D. on Yelp
My fiancé and I love Gems of La Costa. They are so incredibly helpful and honest. My fiancé chose my beautiful ring with the help of Gems of La Costa. It is absolutely stunning. We had his ring custom made from Gems of La Costa. They provided the steps, timeline, and pricing up front. They created a mold so we could actually see what the ring would look like, and we were able to make changes before they made the final ring, which was perfect because that is how we noticed that we wanted to change a design element. They always completed each step early, so we ended up getting his ring a week early! We both love our rings. The service is beyond superb. We 100% recommend Gems of La Costa.
I couldn't agree more with the other 5 star reviews. I was looking for a very specific emerald. I had been to several gemologists and jewelry stores and couldn't find what I was looking for. Gems of La Costa has a surprising amount of gems and they had the exact size/quality I was searching for. The price was great and they even had a certified gemologist (from he institute) meet with me to put any concerns at ease. Steve was so helpful and we turned the emerald into an engagement ring. They took the image I had in my head and created a stunning piece that my fiancé just loved. They are patient, non-pushy and will answer every question you have. I couldn't recommend them more.
I don't want to brag but I'm going to. I have the MOST beautiful engagement ring I have ever seen. I love giving my Fiancé credit when people stop me on the street to tell me it's the prettiest ring they have ever seen but the credit needs to go to Dale and his team. It is the most incredible diamond and setting. We had not gone ring shopping before, nor did my Fiancé shop around for Jewelers he knew exactly where to go and I suggest anyone who is looking for a good jeweler to look no further than Gems of La Costa. Seriously, just stop, you're wasting time if you do, you could use that time to learn a new language or pick up a new hobby or start surfing, stare at your ring for hours on end like I do. Do you realize all the things you could be doing by not going to other Jewelers? It's limitless! So if you see me lugging around the largest and most gorgeous ring you have ever seen you'll immediately know it was Gems of La Costa. I may even have to invite Dale to my wedding; actually I'm going to ask Dale to be one of my bridesmaids. It's that perfect! Thank you again!!!!
WOW! I absolutely LOVE this jeweler! Dale was AMAZING helping me and my future husband find the PERFECT engagement ring! It is TRULY STUNNING and we really appreciated Dale and his team of experts go through all the diamond specifications, as well as finding the perfect ring for me. We learned a ton and I got my DREAM ENGAGEMENT RING!!!! Thank you Dale and Gems of La Costa for everything!
This place was quite helpful and a pleasure to visit!  This small shop is located and surrounded by a bunch of eateries, so parking is a little small, but cars are always coming a going, so a space is bound to appear.
I came here to get an engagement ring resized, and came in during my work lunch.  I came in and was buzzed in by the one guy who was working.  He clearly explained it my be a little hard to down size the ring I had by two sizes, especially with the diamonds on the side. Shortly after thought, he mentioned probably could do it, but the bottom would be a little flatter to decrease the bend on the small diamonds.  I left the ring, and he gave me a pick up slip, a price range, and an estimated pick up date.
About a week later (due to New Year's falling in between) I get a call to pick it up, so I stop by during lunch.  I come in and they are more busy than the last time I was there.  One lady helped me out, grabbed my ring and showed it to me, and it was great!  I didn't notice too much the flat bottom and I was charged the lower end of the price range.
Excellent service and people.  Would definitely come back for my jewelry needs.
I took my diamond ring in to be repaired as it had cracked (my fault) I also asked that they resize it by 1/4.  They did an excellent job, my ring has never looked so good.  Plus they are very reasonable, you can trust them with your repairs. This was not my first repair that I have done with them and won't be my last.
I stopped in to ask a question about a bracelet I had recently been gifted as I was having trouble with the closure mechanism. They did a quick adjustment on the clasps and did not charge me. When I protested, the nice gentleman said I could donate to the community jar if I really wanted to contribute. So hard to find businesses like this anymore. I will be coming back.
Everyone here is very friendly and helpful. I came in with a broken anklet and expected to have to leave it there and pick it up in a few days, but they fixed it in five minutes while they cleaned my engagement ring! Great service.