Custom Design Jewelry & Engagement Rings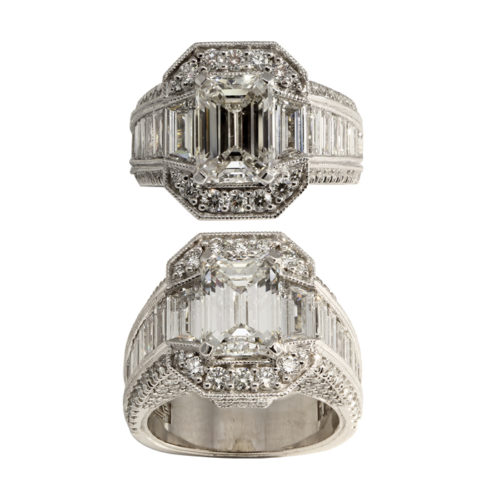 Gems of La Costa offers
custom design jewelry and manufacturing
. We can make your dream come true. With over 30 years experience in custom design jewelry, our master jeweler can create your own one-of-a-kind engagement ring or any other jewelry from scratch for you.
Do you have your own idea for a custom design piece? We can do start to finish design and production of jewelry in your individual style. We'll help you put your ideas on paper, and our craftsmen can create the piece of your dreams in the metal of your choice.
Start to finish design and production of jewelry in your individual style
One-of-a-kind creations you will cherish for years to come
We can create anything – no piece is too difficult
We can use gemstones that you already have
We can turn that old, unworn piece of jewelry into
From Idea Into Reality
Sometimes, our customers have seen a design in a magazine and would like to get a customized version or they want to use diamonds from a heirloom jewelry piece. If you came up with your own idea or you would like to recreate a lost family piece, we can take your ideas and turn them into reality.
Custom Design & Fabrication
Custom design jewelry usually starts with a good understanding of what you are looking for. Starting with a scan of your existing diamonds or gemstones, you want to integrate is the first step that allows us to create a mockup you. Sketches of designs or Photoshop mock-ups are a good start for us to find out what you are looking for and narrow down details and size considerations.
Computer Aided Jewelry Design
In recent years CAD, (Computer Aided Design) is being used to create more intricate designs than what was possible with traditional wax carving or making jewelry by hand.
After the initial consultation with one of our master jewelers, we will create a CAD design on the computer for your custom piece. One of the unique things about having a custom CAD design, is that you can view your jewelry (before we make it in metal)  from multiple directions and everything is proportional. Having everything in proportion is  sometimes lost in a hand drawing.
The computer simulation is a rendering of the CAD file that looks more like the real finished piece. This step enables you to see the piece from all sides and takes the guess work out of the custom designs. Furthermore, we can make adjustments to the design if needed. We will show all the views including side, top, end and a three dimensional view. This way you get to be part of the process to make sure you'll be happy with your unique design.
Next, the CAD file "instructions" are sent to a 3D printer that is essentially a wax growing machine. It grows the design by building up layers of wax or resin that gives us the 3D model we use for the lost wax casting process. When the casting is finished, the gemstones/diamonds are set into the ring and the final finishing is completed.

Some of our recent custom designs