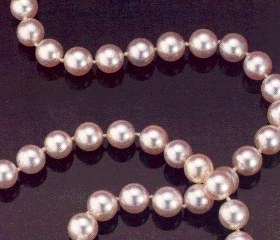 Did you know pearls should be restrung every few years? We can make your necklace or bracelet look like new – graduated or multi strands are no problem for our experts. Don't neglect a pearl heirloom when it is so  easy to get it restrung.
We string your pearls with a silk thread with tight knots, so your pearls are safe, should the string break.
For heavy weight or costume necklaces, we sometimes recommend stringing them with a coated steel wire. Bring in your restringing job and our experts can advise you on what is best for you.