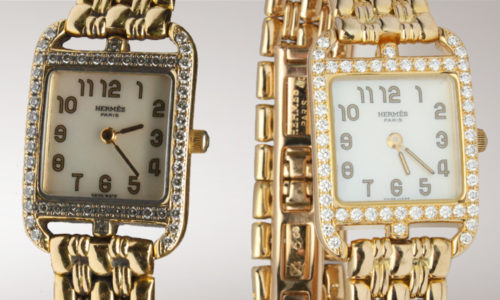 We are able to fix every brand, regardless of age, and can fix most pocket watches too. If you need a new battery, band, or band adjustment, we can perform most of those duties while you wait.
Competitive pricing for preferred selections of all major brands
Watch repairs, battery and band replacements (leather, metal and rubber)
Quartz tune-ups
Mechanical watch repair and servicing
Sizing Watch Bracelets
Full Service for Mechanical and Quartz Watches (see details below)
Mechanical Watch Full Service
Our full service for mechanical watches consists of the disassembly and overhaul of the movement with an examination of all parts. We replace damaged or worn parts and re-seal water-resistant cases. Each of its parts are placed in special chemical solutions that dissolve dirt, dust, and emulsify any dried out oils. When the watch is reassembled, special oils are applied to lubricate all essential parts. We recommend that a general overhaul be performed every three years and that all water-resistant watches be tested once a year for case tightness. In addition, bracelet watch bands are polished and thoroughly cleaned. Quartz Watch Full Service – Our quartz watch full service consists of the watch disassembly, the case and bracelet being polished and thoroughly cleaned in the ultrasonic and the battery being replaced. If needed, the gaskets will be replaced then the watch is resealed to factory specifications. We recommend that all water-resistant watches have their water resistance checked every time the battery is changed.
Gems of La Costa Watch Repair Policy and Warranty
Gems of La Costa warranties the internal parts installed and services that we perform on watches that we repair for one year. Our warranty does not cover the exterior of your watch and does not cover physical damage to the watch or damage due to water and moisture inside of the watch. Water resistance and pressure testing should not be viewed as a warranty but rather peace of mind for the wearer while using your time piece in potentially damaging environments.
Most Watch Repairs take 2 to 4 Weeks and Sometimes Longer
| Water resistance rating | Suitability | Remarks |
| --- | --- | --- |
| Water Resistant 3 atm or 30 m | Suitable for everyday use. Splash/rain resistant. | Not suitable for showering, bathing, swimming, snorkeling, water related work, fishing, and diving. |
| Water Resistant 5 atm or 50 m | Suitable for everyday use, showering, bathing, shallow-water swimming, snorkeling, water related work, fishing. Splash/rain resistant. | Not suitable for diving. |
| Water Resistant 10 atm or 100 m | Suitable for recreational surfing, swimming, snorkeling, sailing and water sports. | Not suitable for diving. |
| Water Resistant 20 atm or 200 m | Suitable for professional marine activity, serious surface water sports and skin diving. | Suitable for skin diving. |
| Diver's 100 m | Minimum ISO standard (ISO 6425) for scuba diving at depths not suitable for saturation diving. | Diver's 100 m and 150 m watches are generally old(er) watches. |
| Diver's 200 m or 300 m | Suitable for scuba diving at depths not suitable for saturation diving. | Typical ratings for contemporary diver's watches. |
| Diver's 300+ m for mixed-gas diving | Suitable for saturation diving (helium enriched environment). | Watches designed for mixed-gas diving will have the DIVER'S WATCH xxx M FOR MIXED-GAS DIVING additional marking to point this out. |