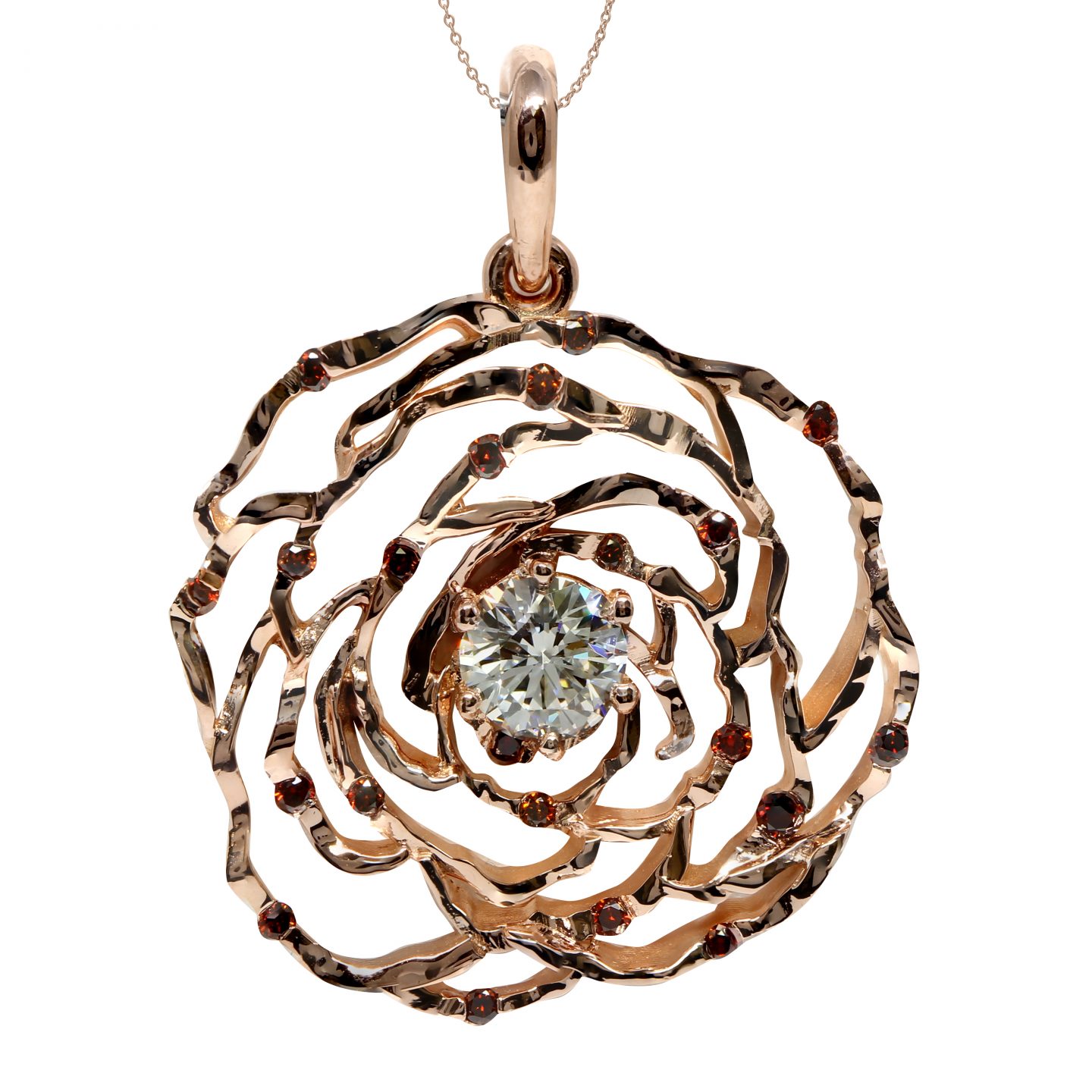 We had the pleasure of making a custom design pendant for our customer who wanted to use her existing diamonds in the custom jewelry design. She wanted to create a large flower pendant that had open frames using her white and red diamonds in rose gold.
After the initial consultation, we made several CAD designs to show her how her custom pendant would look like from all angles.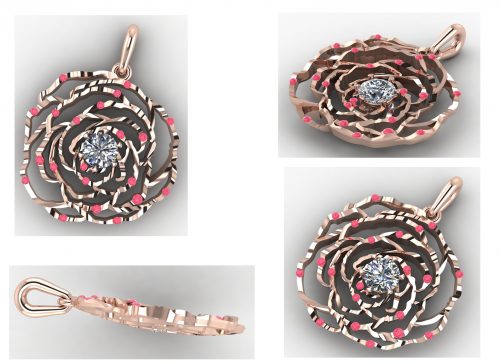 After approval of the CAD, the design was grown with a 3-D printer.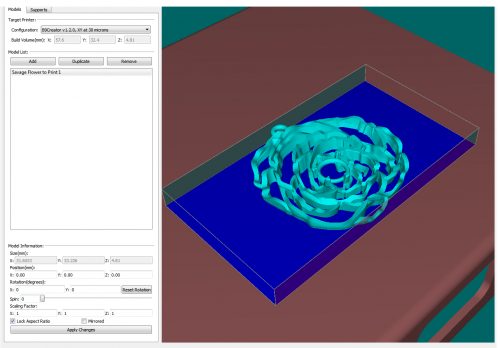 The 3-D printer produces a wax model that is then cast.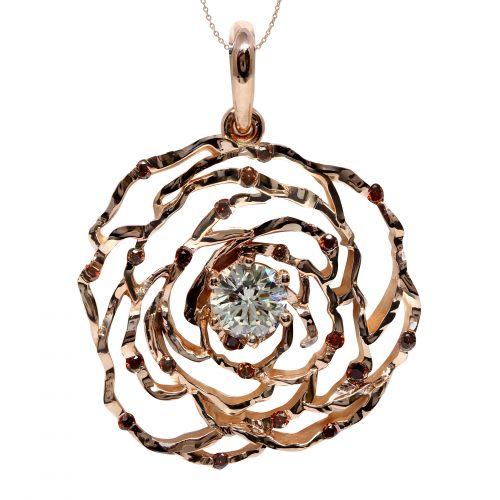 Finished custom pendant in 14k rose gold with white and red diamonds.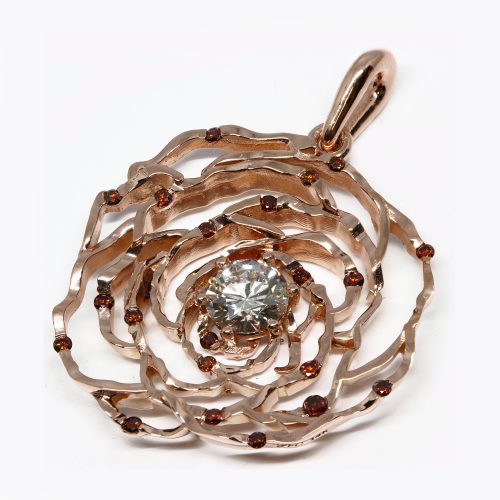 Alissa T. on Yelp

We went in here to get my ring size, and I fell in love with this ring and the shop. This shop is quite the hidden gem. Not only do they have a great selection, the sales associ and jewelers are incredibly helpful and kind. This is a one-stop shop! They sell, fix, and custom make jewelry. We are getting a wedding band custom made to match my ring perfectly. Additionally, the prices are super reasonable for the quality as well.

Diane helped us originally, Steve sold the ring to my fiancé, and Peter is the jeweler and manager who is custom making my wedding bands. They were all very friendly and helpful. We felt taken care of!

Honestly, I'm so impressed with their professionalism and also their inventory. I will be going to Gems of La Costa for all my future jewelry needs!

Samantha N.

Highly recommend, my fiance found this place when researching places for engagements rings. The ring he picked out with the help of Rhonda was absolutely stunning! After he proposed we went for resizing and look at rings for him. Rhonda greater us at the door with a big smile and a hug! She was so excited to be there through the whole ring experience. She was really organized and kind. Later I went back to purchase my finances ring and Rhonda helped me with all her notes she took based off of what he liked. Then we came up with a custom ring that was a combination of the rings he liked. Rhonda and the whole team made this experience very easy and a wonderful memory. I learned so much about jewelry I never knew before. Thank you for all of your help!!

Bethany D. on Yelp

My fiancé and I love Gems of La Costa. They are so incredibly helpful and honest. My fiancé chose my beautiful ring with the help of Gems of La Costa. It is absolutely stunning. We had his ring custom made from Gems of La Costa. They provided the steps, timeline, and pricing up front. They created a mold so we could actually see what the ring would look like, and we were able to make changes before they made the final ring, which was perfect because that is how we noticed that we wanted to change a design element. They always completed each step early, so we ended up getting his ring a week early! We both love our rings. The service is beyond superb. We 100% recommend Gems of La Costa.

I couldn't agree more with the other 5 star reviews. I was looking for a very specific emerald. I had been to several gemologists and jewelry stores and couldn't find what I was looking for. Gems of La Costa has a surprising amount of gems and they had the exact size/quality I was searching for. The price was great and they even had a certified gemologist (from he institute) meet with me to put any concerns at ease. Steve was so helpful and we turned the emerald into an engagement ring. They took the image I had in my head and created a stunning piece that my fiancé just loved. They are patient, non-pushy and will answer every question you have. I couldn't recommend them more.

I don't want to brag but I'm going to. I have the MOST beautiful engagement ring I have ever seen. I love giving my Fiancé credit when people stop me on the street to tell me it's the prettiest ring they have ever seen but the credit needs to go to Dale and his team. It is the most incredible diamond and setting. We had not gone ring shopping before, nor did my Fiancé shop around for Jewelers he knew exactly where to go and I suggest anyone who is looking for a good jeweler to look no further than Gems of La Costa. Seriously, just stop, you're wasting time if you do, you could use that time to learn a new language or pick up a new hobby or start surfing, stare at your ring for hours on end like I do. Do you realize all the things you could be doing by not going to other Jewelers? It's limitless! So if you see me lugging around the largest and most gorgeous ring you have ever seen you'll immediately know it was Gems of La Costa. I may even have to invite Dale to my wedding; actually I'm going to ask Dale to be one of my bridesmaids. It's that perfect! Thank you again!!!!

WOW! I absolutely LOVE this jeweler! Dale was AMAZING helping me and my future husband find the PERFECT engagement ring! It is TRULY STUNNING and we really appreciated Dale and his team of experts go through all the diamond specifications, as well as finding the perfect ring for me. We learned a ton and I got my DREAM ENGAGEMENT RING!!!! Thank you Dale and Gems of La Costa for everything!

So far for engagement ring shopping (and purchasing), Steve has been a tremendous amount of help! Today was my second trip in and it was the visit to purchase the ring.
I will update my review in a couple of weeks when I pick the ring up but for now I wanted to post this to gloat about Steve.

Very knowledgeable, very kind and friendly and is very easy to work with. Made my engagement ring shopping a less stressful event.
Gems of La Costa has an amazing selection of styles, types and whatever you need ESPECIALLY for that special moment. All GIA certified diamonds & Steve was able to walk me through the process of the GIA certification and what it means in the jewelry business and industry.

*UPDATE*
She said yes! And she absolutely loves and adores the ring!!! We will be going back soon during wedding planning process for our wedding band purchases.
Thank you again Gems of La Costa!

I want to thank you for everything, I LOVE my ring and without all of your hard work and dedication, it would have never happened. I am so glad to know that I can come into the store and feel as though I am among good friends!

Dale is amazing!!! He's a great friend of my grandmothers and when it came time for my fiance to propose he went through Dale for the diamond. He was given a couple of ideas of what we were looking for and Dale found the most BEAUTIFUL diamond I have ever seen. I'm so in love with it!! Gems of La Costa is amazing and I highly suggest it for anyone interested!! Thanks Dale for everything!!!

I have had the pleasure of meeting with Dale quite a few times over the last two months to design an engagement ring and and I can't say enough about how wonderful the experience has been.

I am a chick so you would think that the whole engagement ring thing would make me giddy as a school girl…..absolutely not! It is a frickin roller coaster ride! Initially when you are checking out ring ideas there is some excitement, but then the number of choices, the prices, and the process bring you down pretty fast.

My fiance was a bit nervous about picking out a ring for me, I don't blame him I had no idea what I wanted so why would he know. Being the nerdy girl I am I did a little homework. I found a couple ring designs I like and a store that sold those rings. I went into the store to scout it out and told them exactly what I wanted, the design, the price cap, and even got pictures. I gave my fiance the info and felt pretty good about this whole ring thing….then the first negative-G!

Basically he went in there, they ignored him at first, they pushed him toward the higher priced rings, and then said they would have the manager I spoke with call him back 5 days later. That roller coaster drop came out of nowhere and boy was it steep!

I didn't go to Dale initially because he didn't carry the brand I wanted but he was the first person I called when this happened. Dale was great, he talked me off of the ledge and walked me through the process of designing my own ring. I was a bit skeptical about being creative enough to design a ring but Dale made it sound so simple that I thought what-the-H let's go for it.

My fiance and I met with Dale, looked at different designs, stones ( I wanted an emerald cut blue sapphire, Dale thought a cushion cut would give me more of what I wanted – he was right), and then went to work. The process was awesome, don't get me wrong, it was still a bit stressful, designing a ring of this importance brings with it some trepidation, but Dale kept us on task, on schedule, and on budget.

Dale is great about educating the buyer on stones, metals, design and functionality. He gave us options, ideas, and guidance. There were no more negative-G's for me! We will be going back to Dale for years to come….I mean I do need some earrings and a necklace to match this ring right! 😉

I have a two tone customized wedding band that is expensive and that is very important to me. After losing weight my ring size went down from a 12 to a 9.75.I have been to several jewellery stores and asked about resizing, including the one were I originally bought the ring in New York City. I got a consistent answer, " You cant re-size a customized wedding band."I went into Gems actually looking for a cheap replacement wedding band and they suggested I resize my ring (which would make them less money).

I said ok as worst case I cant wear the ring (it was too big so I could barely wear it anyway) and if it looked good I'd have saved a bunch of money.

A week later and they called me to come pick it up. There is a slight blemish where the ring was taken in which is noticeable ONLY if one looks closely and knows to look for it.

I'm very happy that I went with the work they did and so happy to be able to wear my ring once more. I mentioned that I read about them on Yelp and they gave me their Yelp discount so I'm paying forward the good reviews I read.

Great service, great people, great atmosphere. I'm very happy I found them on Yelp.

It is rare to not only find someone who is exceptional at his craft, but even more rare to find a jeweler that has your best interests at heart and looks to save you money. Who does that?

Dale at Gems of La Costa.I was looking to upgrade my wife's diamond and interviewed numerous local jewelers. I ended up going with Dale because…

Number 1: He is a gemologist.

Number 2: His depth of knowledge on diamonds was most impressive in comparison to his competitors.I found him to be very genuine, honest and forthcoming in all our dealings. To fit the upgraded (larger) diamond, I was told we would also have to create a whole new platinum setting. Dale knew how sentimental my wife was in keeping the original platinum (heck, I got down on one knee with that thing!), so I was surprised and thrilled to hear from Dale that he could actually work with the original platinum setting (saving me thousands) and making my wife cry (in a good way!)Her new diamond is brilliant and wherever she goes, the compliments are flying!If you like top quality, excellent service and saving money, run (fast) from the mall chain stores and go see Dale.