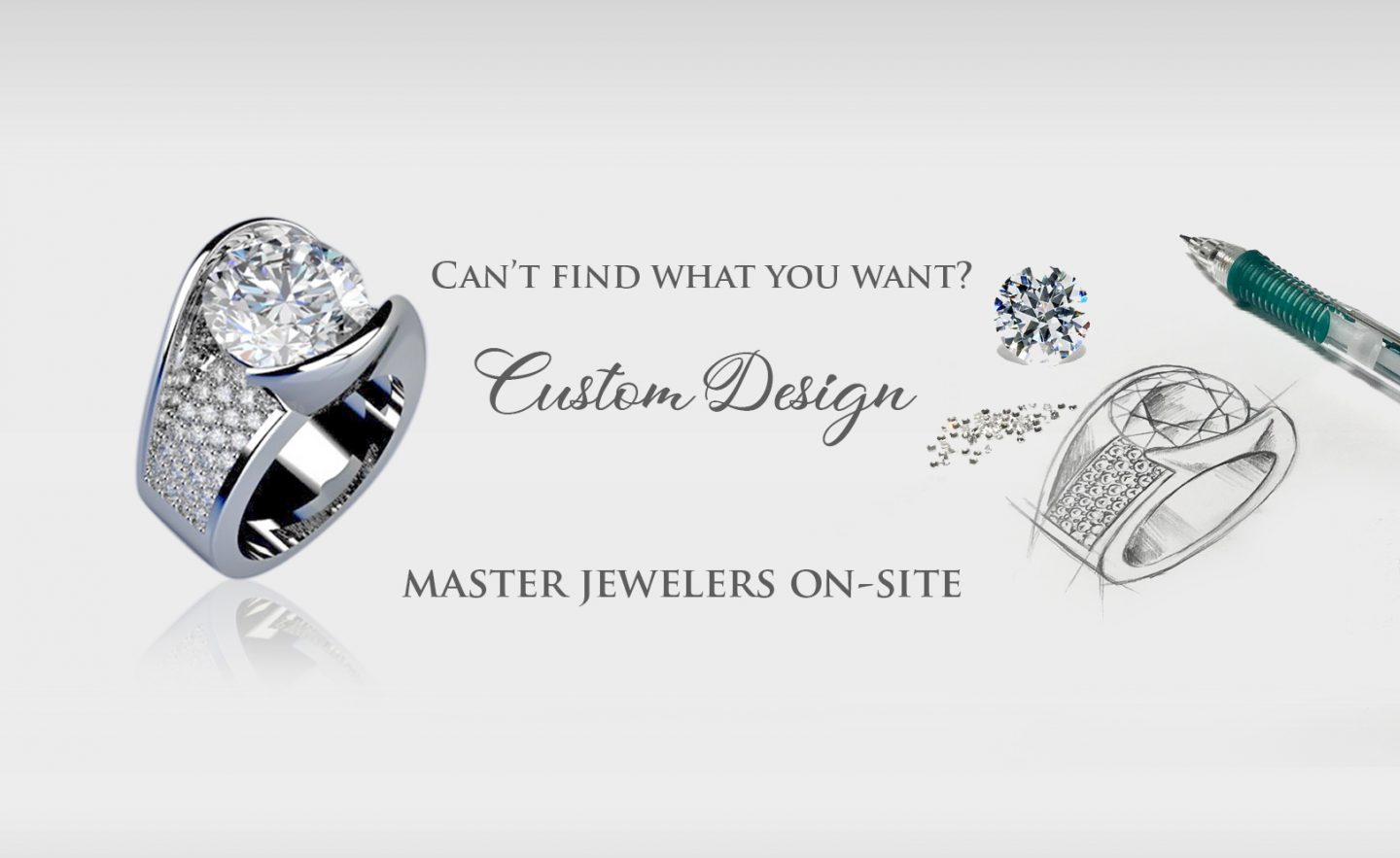 Can't find the perfect engagement ring?  You're looking for something that speaks to your souls, something unique to you and her.  Maybe you have something special in mind.  Maybe you're overwhelmed by too many choices, yet nothing seems exactly right.  You need to design your own engagement ring!  Need help?  Our custom design experts are ready.
Let's Get Started
Whether you two will be working together or you're planning for a big surprise, you need to get started on a custom design about two months before the big reveal.  Here's an outline of the best way to proceed.
Set a budget so you won't be surprised or disappointed later.
Consider her tastes and style.
Find inspiration in magazines (of all sorts), catalogs, and the internet.
Choose a jeweler that you feel comfortable with, that suits your personal style, and that has experience and expertise in custom jewelry.
Meet with them and discuss your journey so far.  Narrow down your options, and then choose a stone and setting material.

Choose a diamond or gemstone.  Most couples go with the classic white diamond.  But be sure to consider blue sapphire, amethyst, and birthstones as well as a mix of different stones.
Yellow, rose, or white gold are also classic choices, as is silver.  A mix of metals can create a gorgeous and absolutely unique look.

Create your design.

Different cuts set the style while making each stone look its best.  Cuts include round brilliant, marquise, heart, and pear.  Do you want a single large stone?  Many smaller ones?  A mix of large and small?
Setting styles include bezel, channel, pave, and three-stone in a range of nuanced details to give the right impression.

Your jeweler can make sketches or even 3-D CAD (computer aided design) images to help you visualize the final look.
Once you give the go ahead it typically takes 4 to 6 weeks to bring your design to life with all the final touches.
Let Gems of La Costa Help
Don't just click on items in a menu at jewelry chain websites!  Draw from our two generations of in-house design expertise.
We'll get to know you and your fiancé, and join you on this exciting journey.  Stop by our Carlsbad shop and our master jewelers will be happy to meet with you and begin the discussion, with  no commitment to purchase.  And let our skill create an engagement ring that's not only unique, but simply amazing as well.