Engagement Rings in Del Mar, CA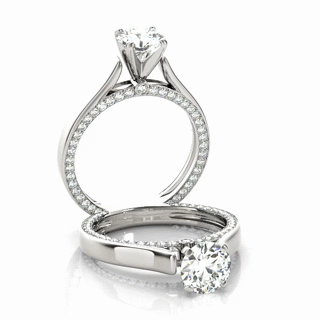 An engagement ring is timeless. It's more than the metal used, the type of stone, or the precise cut. An engagement ring is a physical testimony to a treasured memory…a significant relationship. It represents status, friendship, trust, commitment, and integrity. It celebrates love.
Are you looking for the perfect ring to capture the moment when you ask that life-changing question?
Del Mar Engagement Rings
Engagements are special moments. Planning the perfect time and occasion to ask the big question can be nerve racking. However, finding the right engagement ring shouldn't be an ordeal.
Are you looking for the perfect ring for your perfect partner?
If so, we would love to help you to enjoy the experience.
At Gems of La Costa, you'll never encounter pushy sales people or impatience. We enjoy questions because we want you understand the engagement ring you choose. Dale and Linda Condy, have served couple from Del Mar for over 25 years. They personally count it as a privilege to assists couples in finding the ring that will commemorate their commitment.
Custom Designed Engagement Rings Del Mar
Some couples search high and low for the ring of their dreams only to find that it does not exist. We make ring dreams a reality! Even if you only have a vague idea or pictures of certain parts of rings that you desire, Gems of La Costa can help.
Our master jewelers are expert designers who understand how to conceptualize your dream ring. We can sketch and sculpt your idea into a final blueprint before production. Our in-house team will make sure that the ring is durable and construct it from beginning to end.
Gems of La Costa is dedicated to seizing the essence of your memories within the jewelry of your dreams.
Reputation Matters!
Read 5 Star Reviews on Yelp from some of our Del Mar clients for engagement rings.
Our service is to provide Del Mar residents with the most unique and exquisite fine jewelry for:
Engagements
Weddings
Anniversaries
Birthdays
Graduations
Holidays
And more!
We always maintain a full array of rings, pendants, earrings bracelets, and specialty jewelry at a fair price.