Engagement Rings in Oceanside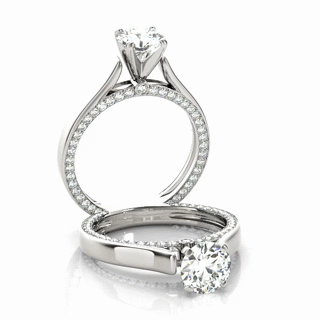 Why Should You Choose Gems of La Costa?
Since 1989, Dale and Linda Condy have helped hundreds of couples in Oceanside find their perfect engagement ring with a simple, "win-win" business philosophy. Their professional staff is dedicated to your satisfaction with a goal of making your experience as pleasant as your price. In a world of inflated claims, with many boasting the highest qualities at the lowest prices, we understand that what you really might be looking for is trust.
No hype or high pressure, just straight talk and common sense is what you will find at Gems of La Costa Jewelers in Carlsbad & Oceanside Area . But, don't take our word for it…
Engagement Rings Reviews
Read 5 Star Reviews on Yelp from some of our Oceanside engagement ring clients.
How do you know, what color and clarity is right for your engagement ring?
Finding the right engagement ring can be quite overwhelming. Everybody has heard about the 4C's : Color, Clarity, Cut and Carat but which grades offer the best value? With more than 40 years of gemological experience, we can assist you in deciding on the right combination of size and quality. We'll also explain how to get the most value for your diamond investment. If you're considering a unique size and shape that we don't normally stock, our computer network can locate and deliver a well-priced selection in as little as 24 hours or less to our store near Oceanside.
What about a custom designed engagement ring?
If you can't find exactly what you want, our master jeweler can create your own one-of-a-kind engagement ring from scratch for you.
Sometimes, our Oceanside customers have seen a design in a magazine and would like to get a similar – customized version or they want to use diamonds from a heirloom jewelry. If you came up with your own idea or you would like to recreate a lost family piece, we can take your ideas and turn them into reality.
Custom design jewelry usually starts with a good understanding of what you are looking for. Starting with a scan of your existing diamonds or gemstones, you want to integrate is the first step that allows us to create a mockup you. Sketches of designs or Photoshop mock-ups are a good start for us to find out what you are looking for and narrow down details and size considerations.
Oceanside Computer Aided Jewelry Design
In most recent years CAD, computer aided design is used to create more intricate designs then what was possible with the traditional wax carving or fabricating custom jewelry from scratch. Furthermore, CAD Jewelry Design can give you a preview of all sides of the piece and adjustments can be made to the piece before it's has been cast and finished.

Directions to our store from Oceanside: