Are you in possession of exquisite luxury watches that you no longer wear or desire? At  Gems of La Costa, we understand the value of your time and investment. We specialize in offering top-dollar payouts for your pre-owned luxury watches, providing a seamless and secure process for those looking to sell their timepieces.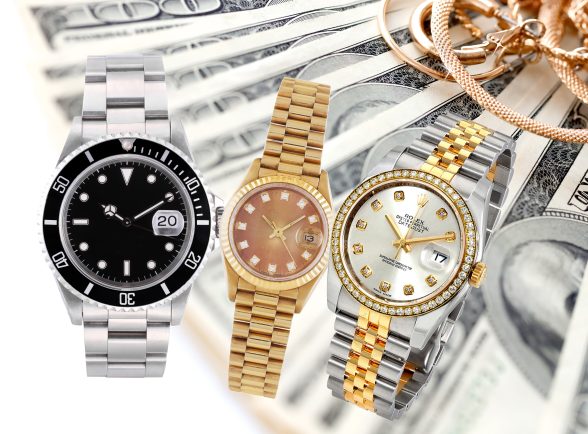 Sure, here are some things to consider when selling your luxury watch:
The make and model of your watch. The most important factor in determining the value of your watch is the make and model. Some luxury watch brands, such as Rolex, Patek Philippe, and Audemars Piguet, are more valuable than others. The specific model of your watch also matters. For example, a Rolex Submariner is more valuable than a Rolex Datejust.
The condition of your watch. The condition of your watch also affects its value. A watch that is in good condition will be worth more than a watch that is damaged or worn. Be sure to clean your watch before you sell it and make sure that all of the functions are working properly.
The age of your watch. The age of your watch can also affect its value. Generally speaking, older watches are more valuable than newer watches. However, there are some exceptions to this rule. For example, some limited-edition watches can be worth more than their age would suggest.
The demand for your watch. The demand for your watch also affects its value. If there is a lot of demand for a particular watch, it will be worth more than a watch that is not in high demand. You can research the demand for your watch by looking at online listings and auction results.
Once you have considered these factors, you can start to research different places to sell your watch. Here are some popular options:
Online marketplaces. Online marketplaces such as eBay, Chrono24, and Watchfinder & Co. are a great way to reach a large number of potential buyers. However, it is important to be aware of the fees associated with selling on these platforms.
Local jewelers. Local jewelers may be willing to buy your watch outright. However, you will likely get a lower price than you would if you sold the watch online.
Pawn shops. Pawn shops will also buy your watch, but you will likely get the lowest price here.
Private buyers. You can also try to sell your watch to a private buyer. This can be done through online classifieds or by word-of-mouth.
Here are some additional tips for selling your luxury watch:
Take clear and detailed photos of your watch.
Include all of the original paperwork and accessories with your watch.
Be honest about the condition of your watch.
Why Choose Us?
Expert Appraisals: Our team of experienced watch experts and appraisers are well-versed in the world of luxury timepieces. They possess the knowledge and expertise to accurately assess the value of your watch, taking into consideration brand, model, condition, and market demand.
Competitive Offers: We take pride in offering some of the most competitive prices in the industry. Our commitment to fair and transparent pricing ensures that you receive the true worth of your luxury watch.
Fast and Hassle-Free Payments: Once you accept our offer, we strive to provide you with a fast and hassle-free payment process. Choose between receiving a bank transfer, a certified check, or any other convenient payment method.
At Gems of La Costa, we are dedicated to providing an exceptional experience for individuals looking to sell their luxury watches. Trust us with your valuable timepieces, and let us turn them into cash for you. Contact us today to get started on your journey to a lucrative and hassle-free watch sale.